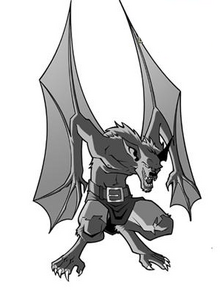 Obrigações e Restrições: Para ser devoto de Dio Murciélagus, um Mur-Kunrin deve assumir o compromisso de proteger sua própria espécie e lutar por sua supremacia. Seu grande objetivo é ajudar seus protegidos a ascender na escala evolucionária. Você se torna um guardião da cultura e costumes de nossa raça, ensinando aos seus futuros filhos, o modo de nossa espécie. Também cabe ao Mur-Kunrin evitar o Contato de sua espécie com outras criaturas (exceto, talvez, como comida).
Para um humano ou outro ser civilizado tornar-se um Mur-Kunrin, ele deve abandonar seu antigo modo de vida e abraçar a cultura de nossa espécie. O Premio é compensador: a confiança total de uma espécie de Monstros.
Ad blocker interference detected!
Wikia is a free-to-use site that makes money from advertising. We have a modified experience for viewers using ad blockers

Wikia is not accessible if you've made further modifications. Remove the custom ad blocker rule(s) and the page will load as expected.