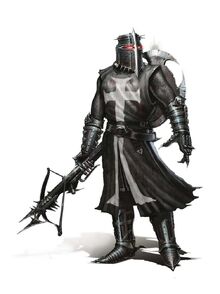 Biografia
Edit
Malaphar era um paladino da igreja de Myhl, mas ele via que o mal teria que ser eliminado de qualquer forma, isso inclui a morte. Seus superiores o viram como uma ameça e o renegaram. Virando assim O Paladino Renegado.
Depois de expulso, Malaphar foi procurar outros ensinamentos, e se fascinou por ensinamentos de Patrulheiros da floresta de Theae. Lá ele aprendeu a atirar de várias formas diferentes, e a sobreviver na floresta. Foi presenteado com uma besta de lâminas super perfurantes.
Não conseguindo ficar parado, sabendo que ainda havia maldade no mundo, Malaphar forjou sua própria armadura. Braços e pernas cobertas de ferro. Seu elmo foi a ultima parte a ser forjada, assim, faltando ferro para terminar a parte dos olhos, ele usou uma lasca de rubi, a dividiu em duas e as colocou na parte de baixo dos olhos. As mesmas refletiam a luz do sol, assim parecendo que seus olhos brilhassem como os de um ser sobrenatural. Seu escudo é a junção de ferro e lâminas, cuidadosamente postos juntos para que quando fosse arremessado, rasgar o que estiver na frente.
Ad blocker interference detected!
Wikia is a free-to-use site that makes money from advertising. We have a modified experience for viewers using ad blockers

Wikia is not accessible if you've made further modifications. Remove the custom ad blocker rule(s) and the page will load as expected.